Hawai`i Astronomer Wins Canadian Award
Hawaiʻi attracts the world's top talent in astronomy due to Maunakea being one of the leading sites to study the universe. Today, EAO/JCMT astronomer Dr. Alex Tetarenko was awarded the 2019 J. S. Plaskett Medal by the Canadian Astronomical Society (CASCA).
Dr. Tetarenko was awarded the medal for her doctoral thesis on the physics of relativistic jets in X-ray binaries, as revealed by radio, millimeter (mm), and sub-millimeter (sub-mm) observations. Dr. Tetarenko obtained her PhD at the University of Alberta, and is now a 2018 East Asian Observatory Fellow working in Hilo, Hawaiʻi.
Dr. Tetarenko was awarded the medal for her exceptional skills both as an observer and in her insightful physical interpretation of complex observational data. Specifically, she is a leading expert in mm/sub-mm observations of black hole X-ray binaries. Recently, the journal Nature published  Dr. Tetarenko's paper on  the rapidly spinning black hole in the Galactic binary system V404 Cygni. Dr. Tetarenko and her team used the Very Long Baseline Array (part of which is located on Maunakea) to observe this stellar mass black hole eject rapidly rotating high-speed clouds of plasma (known as jets), which are thought to be driven by the effects of Einstein's theory of general relativity.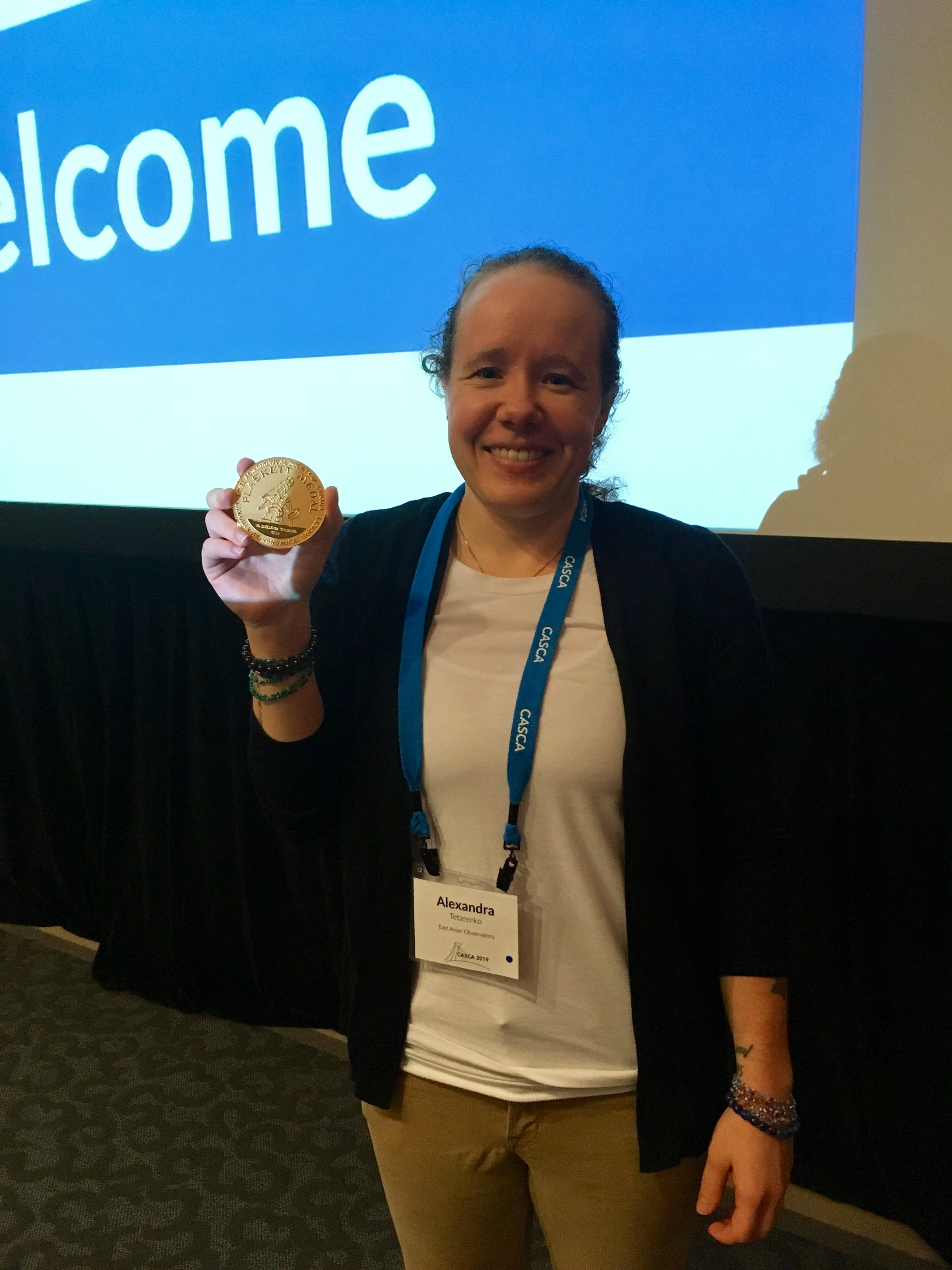 Dr. Alex Tetarenko with the J.S. Plaskett Medal, Awarded by the Canadian Astronomical Society at the 2019 annual general meeting in Montreal, QC, Canada. Photo Credit: Steve Mairs
On being awarded the 2019 J. S. Plaskett Medal, Dr. Tetarenko said "I am honored and humbled by the award, and grateful to be included among the list of awesome Canadian astronomers who have come before me". On living and working in Hawaiʻi, Dr. Tetarenko said "I absolutely love being based in Hawaiʻi. Not only is Hawaiʻi one of the foremost centres of astronomy in the world, where I have access to world class telescopes and all the support and resources I need for my research, but it is also a beautiful island with a rich culture, that provides a very welcome escape from harsh Canadian winters."
Media Contacts:
Alex Tetarenko
James Clerk Maxwell Telescope
1-808-969-6519
a.tetarenko@eaobservatory.org
Jessica Dempsey
James Clerk Maxwell Telescope
1-808-969-6512
j.dempsey@eaobservatory.org
Additional Links:
About East Asian Observatory/James Clerk Maxwell Telescope
The EAO (East Asian Observatory) is formed  by EACOA (East Asian Core Observatories Association) for the purpose of pursuing joint projects in astronomy within the East Asian region. The EAO is chartered as a non-profit Hawai`i corporation. Its first task is to assume the operation of the James Clerk Maxwell Submillimetre Telescope (JCMT) on the summit of Maunakea, Hawai`i. Pursuant to an agreement with the University of Hawai`i, the EAO also provides engineering and IT support to the UKIRT Observatory (UKIRT). The JCMT is run by the non-profit organization the East Asian Observatory.