In May our engineering staff undertook major maintenance work of the Secondary Mirror Unit on the JCMT. After this work it was noted that the Secondary mirror was sometimes vibrating, which lead to beam deformation. This was noticed due to sporadic increased FCF values – and could also be seen in the aspect ratio of our calibrators (see image below). Observers who collected data between UT dates May 24th 2018 and 08:10UT on June 30th 2018 should be aware of this issue. Astronomers who may have affected observations should check their data closely. This issue was noted to be intermittent. If you have questions about the data quality please contact your Support Scientist or the observatory directly.
On June 30th, we applied a temporary work-around to account for these SMU vibrations. To implement a more permanent solution, the observatory briefly removed the GoreTex membrane to work on the Secondary Mirror Unit. This work was performed between Tuesday July 24th, and Monday, July 30th.  The PI and Large Program time were unaffected.
Below is a plot showing the aspect ratios of calibrator CRL 2688 over time. The blue, shaded region represents the nominal values. Note that the high aspect ratios observed in between the temporary and permanent fix (boxed in red) were part of a low elevation, poor weather (wet grade 5), poor seeing engineering and commissioning project. Regular observing was unaffected.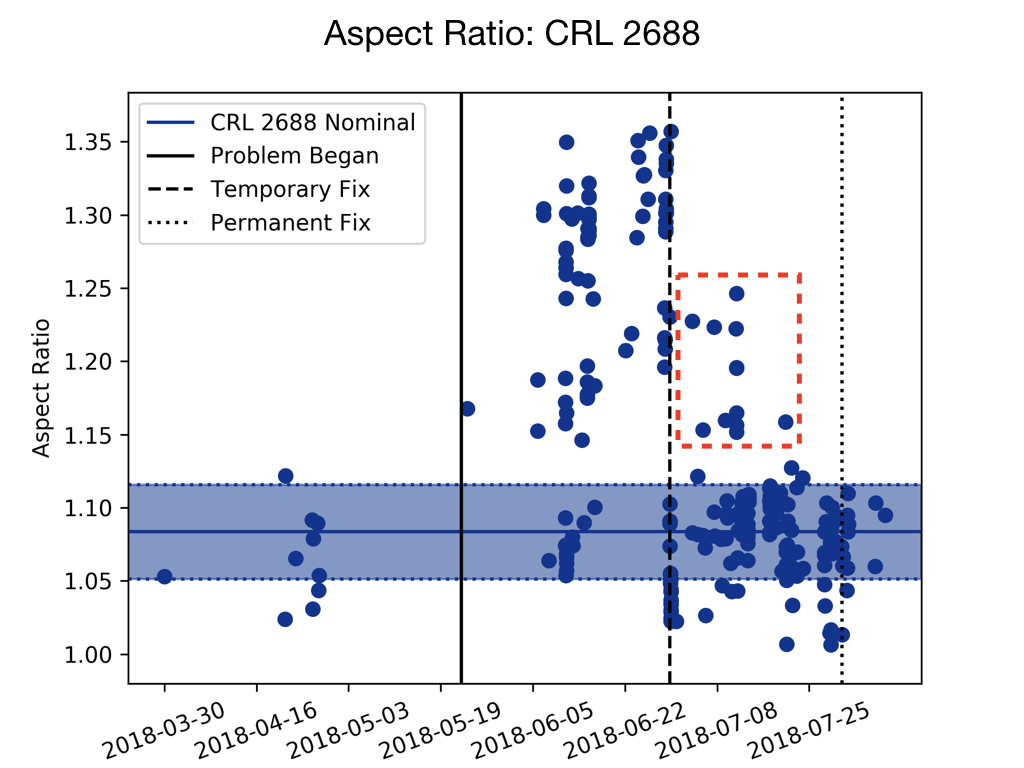 – 20180815