The EAO are pleased to provide an announcement of the fourth Call for JCMT Large Programs*. Submissions will be accepted from August 15th up until the September 15th deadline. This will coincide with the 22A PI Call.
*This call is limited to programs wishing to make use of Grade 4 and 5 weather only. These conditions are best suited to our heterodyne receivers: HARP, `Ū`ū and the newly available `Āweoweo.
---
Up to 4,200 hours of time to be awarded between:  February 2022 and January 2025
---
The call will open
August 15th 2021
---
The closing date for submissions is
September 15th 2021

15:00 Hawaiian Standard Time
Overview
The East Asian Observatory announces the opening of a forth JCMT Large Program Call for the James Clerk Maxwell Telescope. Large Programs are defined by the observatory as projects which require significant amounts (> 200 hours) of observing time, require more than a single semester to complete and that take full advantage of the JCMT instrumentation capabilities to address multiple important scientific questions.
This call is aimed at continuing and growing the impact of the first, second and third generation of JCMT Large Programs undertaken as EAO/JCMT and the JCMT Legacy Surveys. Unlike past Large Program Call's this Call is specifically aimed at weather Grades 4 and 5 with our Heterodyne instruments – notably HARP, `Ū`ū and the newly available `Āweoweo.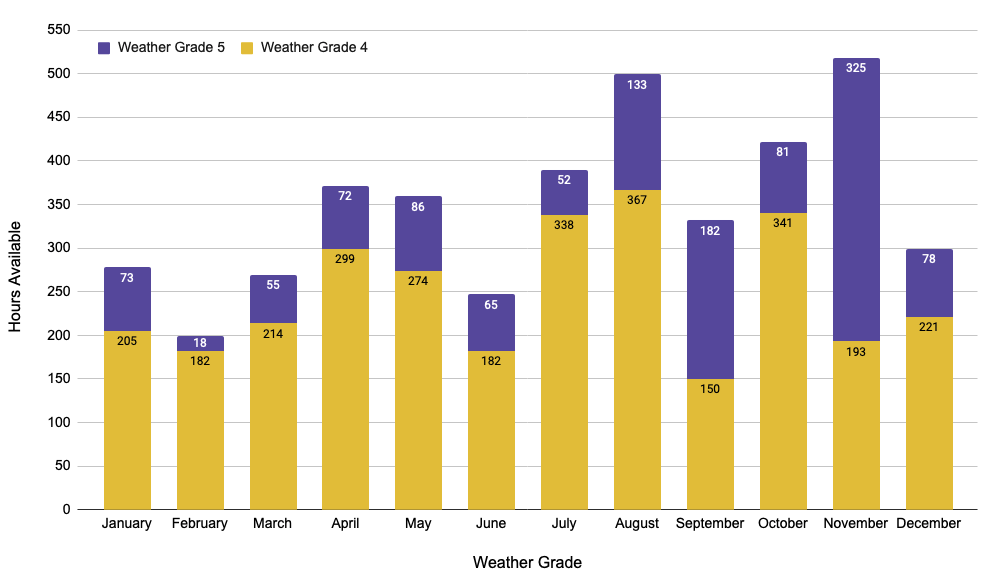 The total number of hours available in this 22A Call for Large Programs is 4,200 hours. The break down of hours by Weather Grade is provided in the histogram above. The exact breakdown in numbers should be used as a guide only and are based on the Large Program Prediction Model.
Large Program Definitions and Requirements
Successful JCMT Large Programs proposals will for this call:
be self-contained, and address a number of important scientific questions;
generally request a minimum of 200hrs;
demonstrate legacy value, fully justifying the need for survey status, rather than that of a conventional TAC proposal;
include investigators from at least three regions. Collaborations between more than three regions are strongly encouraged – the assessment process will consider the degree to which the proposals represent the interests of all the relevant communities;
include a viable management plan (e.g. membership rules), and publication plan;
identify and explain any link(s) to other survey(s);
Proposal Requirements
The proposal should:
address all of the requirements listed above
list all PI(s),  co-Is and their regional affiliations
include both a scientific and technical case
in the technical case, the proposal must utilize the available integration time calculators provided by the observatory to justify their time request, the proposal should also be mindful of the likely hours available at various RA ranges.
 specify the weather conditions (read opacity) that it requires or can tolerate. The amount of time available per weather/opacity band varies through the year.
be submitted via the Hedwig proposal system, by the deadline. Any questions regarding proposals should also be directed to this address or to the help desk
Source lists – should be uploaded to Hedwig
Time Available
In the 22A Call for Large Programs 4,200 hours are available – in weather Grades 4 and 5. Half of the available science time in Grade 4 and 5 between February 2022 and the end of January 2025 (the end of 24B) after accounting for currently approved/active Large Programs.The break down in hours available in the histogram found further up this page.
The JCMT typically operates a 13-hour night, running from approximately 6:00pm to 7:00am HST, during which usually 8 hour per night is available for science observations (the rest is used for pointing, calibration and engineering overrides).  Table A and Table B show source transit times during (roughly) the first and seconds halves of the year.
Large Program Review and Proprietary Periods
The Scientific Time Allocation Committee will assess all proposals during the autumn of 2021, and provide recommendations for survey time awards to the JCMT Board. The JCMT Board will determine the final allocations.  Award announcements will be made to successful P.I.s in late November early December 2021.
When the announcements of New Large Programs are made sign-up for membership to successful surveys will be announced and supported by the JCMT. Surveys will be asked to prepare for submission of observations to the observatory which will commence in February 2020.
Large Program data will have the same proprietary period as P.I. data collected at the JCMT, consisting of a full year following completion of the semester in which the data was taken. Approved programs will be required to provide periodic updates to the observatories. Each program will be asked to provide evidence of:
Data reduction/analysis work and identify teams leading this effort
At least three talks per year within each EAO/JCMT partner region – promoting the program's scientific goals and accomplishments.* COVID dependent – virtual talks are encouraged.

Road map to publications – including expected date of submission, lead author and brief overview
Where applicable a list of related proposals at other telescope facilities
Regular meetings reduction/analysis meetings and yearly program wide meetings
There will be a mid-Large Program review to assess the performance of the Large Programs in progress.

Eligibility
Proposals will be accepted from scientists from any of the East Asian Observatory regions (Japan, China, Taiwan, South Korea, Thailand, Vietnam, Indonesia, and Malaysia) and participating JCMT regions Canada, and participating institutes from the UK and Ireland. For more information please read  the EAO eligibility pages. Any scientist from these regions is eligible to participate at any level (PI or co-I) in a Large Program proposal. Collaborations are strongly encouraged and subject to the requirements (see Large Program Definitions and Requirements).
Following the approval of a Large Program, admission to a Large Program collaboration will be opened to scientists from all participating regions prior to the start of observing (Open Enrollment). Membership  following that period will be at the discretion of the individual program management team. The JCMT will provide assistance in maintaining survey sign-up and membership distribution lists and webpages as required.