To register for the EAO Futures 2019 meeting please complete the online registration form.
Registration has closed
Meeting Location
The meeting will be held at the PMO Campus (3 minute walk from the Hotel). Please see the program page for the meeting program. The meeting talks will take place in Room 3-302, Building #3, PMO. Lunch will served at the PMO Canteen, First floor, Building #6. The meeting banquet will be held on Tuesday May 21st from 6pm at the Beijing Hall, on 2nd floor, OffCN HY Hotel.

Meeting Accommodation
All attendees will stay at the OffCN HY Hotel, Nanjing. The PMO new campus is a 3 min walk from hotel.
website:
Room rates will be as follows:
 Standard Room : CNY 390 per room/night (2 single beds)
 Double Room : CNY 410 per room/night (1 queen bed)
 Deluxe Suite : CNY 680 per room/night (1 queen bed)
Prices include Tax and breakfast. This will be booked once you register using the online registration form. The deadline for registering is April 5th
Transportation
For those traveling to Nanjing from outside China it is best to reach Nanjing either by plane directly to Nanjing or by plane to Shanghai and take a two hour train to Nanjing. It is then possible to take a taxi to the hotel. Please show the following to the Taxi driver:
"Please take me to the OffCN HY Hotel (Zhonggonghuiyue Jiudian), No.8 Yuanhua Road. Thank you"
请带我去南京中公汇悦酒店(南京市栖霞区元化路8号),谢谢!
From Shanghai to Nanjing takes less than 2 hours by high speed trains – see train schedule:
https://www.trip.com/trains/List/Index?DepartureStation=%E4%B8%8A%E6%B5%B7&ArrivalStation=%E5%8D%97%E4%BA%AC
The nearest metro stop to the Hotel is the Nanjing University Xianlin Campus Station (Metro Line 2). For a map on the Nanjing metro lines and stations click here. If you take the Metro to the hotel, please take Bus 321 at Nanjing University Xianlin Campus Station and get off at Nandakexueyuan Station (3 stops).
Metro instructions: Metro line S1 transfer to Metro line 3, then transfer to Metro line 2, about 130min, CNY 13
Metro line S1: from Nanjing Lukou International Airport to Nanjing south railway Station (7 stop)
Metro line 3: from Nanjing south railway Station to Daxinggong Station (8 stop)
Metro line 2: from Daxinggong Station to Nanjing University Xianlin Campus Station (4 stop)
take the Bus 321 to Nandakexueyuan Station (3 stop)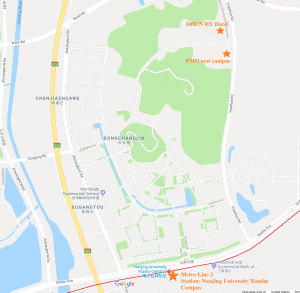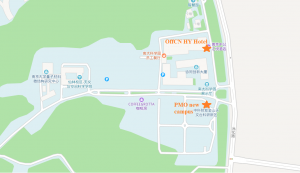 VISA INFORMATION
All travelers other than Chinese citizens need a valid visa or authority to enter China. Processing and issuance of visas can take several weeks/months, so apply well before your planned travel.
If you need a letter of invitation for your visa application, please contact Lily (lilin <at> pmo.ac.cn) and provide her with following information.
City in which you wish to apply for the VISA
A copy of your passport information page
Local Attractions
This hotel is close to Qixia Mountain Scenic Spot. If you have time before or after the meeting it may be possible to visit the Qixia Temple and Qixia Mountain.

---
Registration | Local Logistics | Program | Participants | Code of Conduct | Discussion Survey| Futures wiki