This is the logistics page for the JCMT 2019 Users Meeting. For information on visiting Taiwan – visas etc please visit the ASIAA guide for Foreign Visitors.
Unlike in past years hotel bookings/arrangements must be made by participants
Meeting Location
ASIAA Auditorium, AS/NTU Astronomy-Mathematics Building,
1F, No.1, Roosevelt Rd, Sec. 4, (inside NTU main campus)
Taipei, Taiwan
Meeting Accommodation
Participants are expected to make their own Hotel arrangements. A limited number of rooms are available at Howard International House but once full participants will have to find other accommodation.
(Howard Civil Service International House)
Tel : (+886-2) 7712-2323
Fax: (+886-2) 7712-2333
Address: No.30, Sec.3, Xinsheng (=Hsin Sheng) South Rd.,Taipei
10 minutes walking from ASIAA
Continental/buffet breakfast is provided
Reservation Procedure
Please send the reservation form to Howard International House Taipei by fax: +886-2-7712-2333 or email: rv2101-ihhoward-hotels.com.tw ,
for reservations or queries.
For no-show or cancellation within 48 hours, one night deposit will be charged.
If interested in staying at the Howard Hotel please ensure you book accommodation by September 3rd
Dining Places
You can easily find restaurants in the city. Prices vary but one meal should cost typically less than 10 USD in many restaurants. A good place to find restaurants is in the alleys of XinSheng S. Rd. and Roosevelt Rd.
Please note lunch boxes will be provided for meeting participants.
Banquet
The workshop banquet will be on the evening of Nov 7, starting from 18:00. The banquet information slide shown at the coffee break can be found here. This restaurant serves Thai food (see TripAdvisor info here), and will offer vegetarian options. The location is near the Taipei 101 area and the famous Eslite bookstore. ASIAA will arrange one-way transportation to the restaurant at dinner time, but participants will have to find their own way back to the hotel after dinner.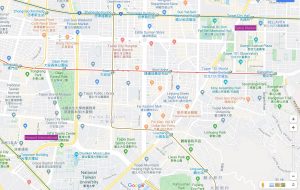 On the street map is marked the locations of the restaurant and the hotel (Howard International). On the MRT map, the relevant stations are indicated. Participants can take MRT from "Taipei City Hall" on the Blue Line, transfer to Taipower Building on the Green Line, and walk for around 10 minutes back to the hotel. Or for those who might wander off to the 101 Building, you can board the MRT from "Taipei 101" station on the Red Line and transfer to the Green Line.
Transportation From International Airports
---
Local Logistics | Program | Posters | Participants | JCMT DR/Tutorials | Remote connect | SMA meeting | Splinter Meetings | Code of Conduct