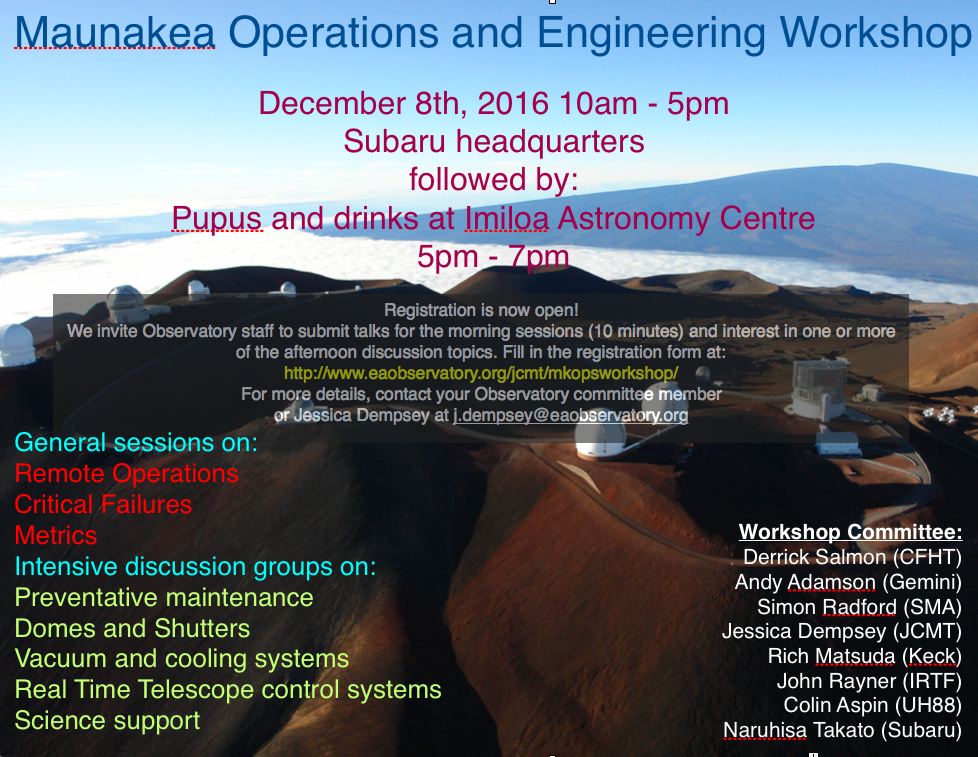 Registration is now CLOSED for the Maunakea Operations and Engineering Workshop
We are sorry but at this time we have reached our peak capacity for the Workshop. Should you wish to inquire if any spaces have opened up, please contact Jessica Dempsey at j.dempsey"at"eaobservatory.org.
We invite interested Maunakea Observatory staff to attend the first joint workshop on Observatory Operations and Engineering practices. The intent is to bring together the shared experience of the largest collection of telescope engineers, technicians and scientists to discuss the good, the bad and the downright ugly of large telescope operations from the technical details through to science support.
Location: Subaru Telescope Headquarters, Hilo
Date: December 8th, 10:00am – 5:00pm
Lunch will be provided, from 1pm – 2pm.
A social session at Imiloa Astronomy Centre will follow, from 5pm to 7pm, with drinks and pupus provided.
Agenda:
Morning Sessions:
10:00 am – 11:00 am: Remote Operations in practice 
Session Leads: Atsuko Nitta (Gemini) and Paul Stomski (Keck)
10:00am –  Atsuko Nitta (Gemini) Remote Operations at Gemini
10:15am – Paul Stomski (Keck)  Remote Operations: common concerns and opportunities
10:30am – Michael Poehlen (Gemini) Remotely judging the weather on Maunakea
10:40am – Sunny Stewart (Gemini) Dust monitoring
11:00am – 12:00 pm: Critical Failures: Lessons learned
Session Lead: Rich Matsuda (Keck)
11:00am – Rich Matsuda (Keck) – MOSFIRE incident
11:15am – Michael Connelley (IRTF)-  Lessons from the NSFcam explosion
11:25am – Marcel Tognetti (Gemini) –  Gemini North shutter improvements
11:35am – Thomas Benedict (CFHT) –  Megacam coating failure and removal
11:45am – Greg Green (CFHT) –  Megacam filter juke box
11:55am – Hirofumi Okita (Subaru) –  Subaru hatch failure
12:00 pm – 1:00 pm: Observatory Metrics 
Session Lead: Jessica Dempsey (JCMT)
12:00pm – Jessica Dempsey (JCMT) –  Maunakea Metrics
12:10pm – Andy Adamson (Gemini) – Operational and productivity metrics at Gemini
12:20pm – Bill Gorman (Subaru) –  Monitoring helium pressure to predict cold-head failure
12:30pm – Grant Hill (Keck) –  Metrics for the wary
12:40pm – Shui Hung Kwok (Keck) –  Performance metrics at the W.M. Keck telescope
12:50pm – Tomonori Tamura (Subaru) –  Measurement of instantaneous voltage drop at Subaru
1:00 pm – 2:00 pm: Lunch
2:00pm – 4:30 pm: Breakout Sessions:
Breakout Sessions:
Session topics:
Domes and Shutters [Session Lead: Steve Bauman (CFHT)] –

Vacuum and Cooling systems [Session Lead: Dan Bintley (JCMT)] – Gemini conference room
Preventative Maintenance Techniques [Session Lead: Grant Hill (Keck)] –

Real-time Telescope Control Systems [Session Lead: Craig Walther (JCMT)] –

Science Support [Session Lead: Alison Peck (Gemini)] –
4:30 pm – 5:00 pm: Session summaries and reports – Subarur conference room
5:00pm – 7:00pm: Drinks and Pupus at Imiloa Astronomy Centre
Registration:
For further details, pleasea contact your Observatory Workshop committee member. The committee members are as follows:
Derrick Salmon (CFHT)

Andy Adamson (Gemini)

Simon Radford (SMA)

Jessica Dempsey (JCMT)

Rich Matsuda (Keck)

John Rayner (IRTF)

Colin Aspin (UH88)

Naruhisa Takato (Subaru)
If you are not an Observatory staff member, and wish to inquire about attending, please contact Jessica Dempsey at j.dempsey@eaobservatory.org